Hire and Rental Industry Association (HRIA)
Gallagher is the endorsed insurance broker for the Hire and Rental Industry Association (HRIA). Over many years, our broker are constantly developing their knowledge base to ensure they are truly experts in their field. That's why hundreds of HRIA members entrust us with their insurance programs.
Insurance to protect HRIA members' livelihoods through HIREPAC
We have worked closely with HRIA to develop and maintain optimum hire and rental insurance strategies. Our tailored hire and rental insurance product, HIREPAC, has been designed for broad application from construction and equipment hire, home handyman hire, office equipment hire, party hire and event hire.
HIREPAC provides your business with a base cover and additional benefits that are specific to the hire and rental industry, including theft by hirer and hired-in or hired-out equipment cover. With damage waivers being a hot topic in the industry today, we can offer advice on how to cover your own back - and your clients - and even arrange a Hire Agreement review to make sure you have the optimum insurance policy for your business's unique needs. Read more about the importance of Hire Agreement reviews here.
Beyond that, we also provide supporting expertise across liability, employment practices, workers compensation and credit insurance. In fact, we can manage all your business insurance needs. Just ask.
The Ultimate Guide to Insurance for the Hire and Rental Industry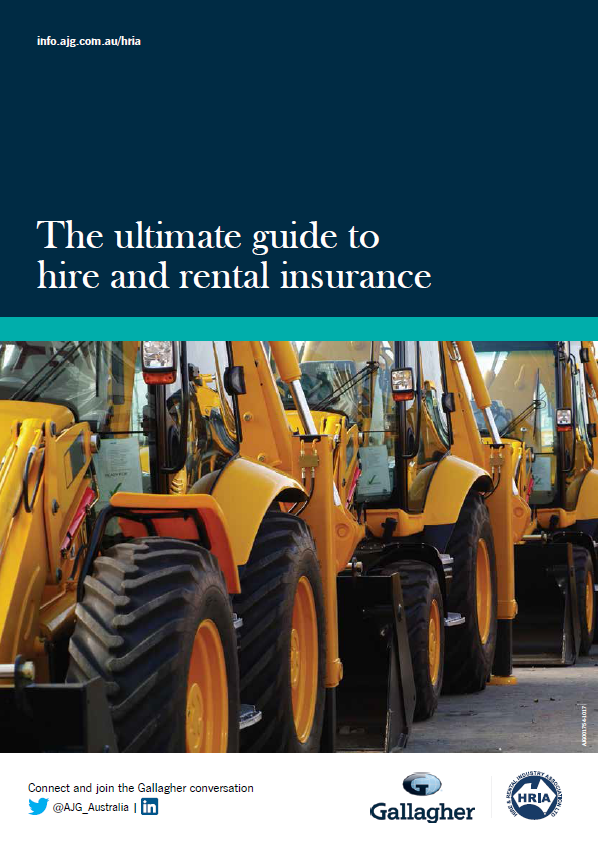 Arranging the right insurance coverage for the diverse risks and requirements of the hire and rental industry is a difficult task.
It takes considerable skill, attention and knowledge.
That's why we have created a plain english guide to the 'must have' insurances to help you understand and manage your risks in 2018.
Download your FREE guide here.
Learn more
If you would be interested in a Hire Agreement review, or in finding out how the Gallagher HIREPAC insurance product would benefit your business, contact your nearest Gallagher Hire & Rental broker:
Not a member of the Hire and Rental Industry Association? You can find out more about the benefits of membership here.